Events & Activities

Teacher/Staff Tributes

What better way to thank a Reading school teacher, staff member, or administrator than to order a tribute and support future teacher grants at the same time!

Starting in April of each year, a donation to the REF Teacher & Staff Tribute Program brings a small gift and special tribute card thanking the recipient for their commitment to the educational experience of our children. Included on the card is your personal message.

REF is collaborating with all school district PTOs, sharing 30% of profits based on the number of tributes sold.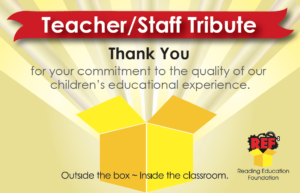 Contact us or sign up for our newsletter to learn more.